Replace Full Mouth of Teeth with Permanent Implant Teeth
This service is available in Rockville MD and Burtonsville MD. IV Sedation Dentistry is available for this procedure in Rockville, Maryland.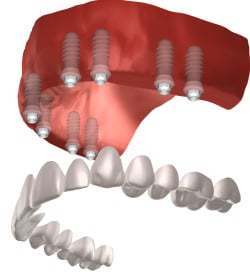 Natural Dentist Associates in Rockville Maryland is a One-stop Dental Implant Center for permanent tooth replacement with Teeth Implants. We now offer cosmetic natural dental implants that are tooth colored, metal free and made of zirconia.
It is possible to place 10-12 dental implants and replace a full arch of teeth by placing porcelain crowns and bridges on top of the implants. And of course, if another 10-12 Dental Implants or a total of 20-24 Dental Implants are placed properly in an upper and lower jaw, an entire mouth of teeth can be permanently replaced with single porcelain crowns and porcelain bridges.
Back teeth including molars & premolars are normally best replaced with single dental implants and crowns. Front teeth are best replaced with 3-teeth implant bridges.
Replacing a full mouth of teeth with single crowns and bridges is arguably the best overall solution.  The solution feels very natural since the size of the teeth are very close in size to the teeth being replaced.  Since the back teeth are individual crowns, they floss, feel and function very similarly as natural teeth.
Most people with single tooth dental implants report the implants feel like teeth, chew like teeth, look like teeth and really are indistinguishable from their other natural teeth.  Porcelain Crowns on dental implants also feel the same as porcelain crowns on natural teeth.  Porcelain has a very similar feeling as enamel on natural teeth, but the porcelain is a little smoother.
Replacing a Full mouth of Teeth with single crowns and bridges supported by Dental Implants is typically best done at the same time or shortly after extraction of the natural teeth.  These cases also require minimal loss of gum and bone tissue.  The amount of gum and bone loss often dictates the best implant option.
For example, a Denture has teeth and pink gums built into the case.  A Denture therefore is replacing both lost gum and missing teeth.  If there has been significant gum loss, the Dental Implant case will at the very least contain longer than usual teeth and often times pink tissue prosthetically replacing lost gum tissue.  An All on 4 Dental Implant cases is a one piece bridge replacing an entire arch of teeth in one piece.
The All on 4 Dental Implant case includes replacement gum tissue and teeth.  Because this same bridge replaces gums and teeth, the prosthetic is larger and bulkier than the single crowns and bridges option which only includes tooth replacement and no gum tissue.  In the later case of single crowns and bridges, the teeth profile is more natural because the prosthetics consists only of teeth similar in size to the lost teeth, hence the reason the option is normally available only to people who have recently lost their teeth.
Individuals who have been missing teeth for a longer period of time or who have significant gum and bone loss need to select dental implant options that replace teeth and gums including All on 4, and Implant Retained Overdentures when replacing all their teeth with dental implants.
Natural Dentist Associates is a Dental Implant Center in Rockville Maryland.  The Implant Dentists, Gary Adams DDS and Kimberly Baer DDS, provide tooth replacement services from start to finish, from tooth extraction, implant placement and Porcelain Implant Crown placement.  Call the office at 301-770-2270 for a complimentry consultation.
We serve primarily Rockville, Bethesda, Silver Spring, Wheaton, Potomac, DC, Gaithersburg, Kensington, Germantown, Burtonsville, Laurel, Columbia and Northern Virginia ( Mclean, Tysons Corner, Great Falls, Arlington ) but people travel from all over the country for our specialty and Holistic Dental Services.