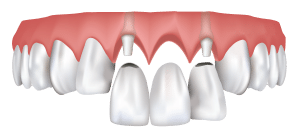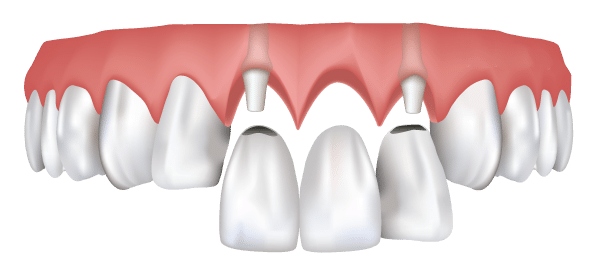 Replace a Span of Teeth with a Permanent Implant Bridge
Dental Implant bridges are typically spans of 2-6 teeth supported by Dental Implants.  Implant Bridges are permanently fixed to Implants and they do not come in and out of the mouth like Dentures. IV Sedation Dentistry is available for this procedure in Rockville, Maryland.
The most popular bridge is a 3 teeth bridge which contains 2 Dental Implants that support a 3 teeth bridge.  Dental Implant Bridges look like teeth, have function similar to teeth and typically will last a lifetime.  Implant Bridges DO NOT DECAY and this is a huge advantage over natural tooth bridges since bridged teeth are more difficult to clean than individual teeth.  Decay and tooth rot is the primary cause of Bridge failure for Natural Tooth Bridges.
Dental Implant Bridges are made the same exact way as Bridges on natural teeth except the Bridge is supported by implants instead of Natural Teeth.  Bridges at Natural Dentist Associates are typically made of Zirconia and Porcelain, do not contain any metals and are Tooth Colored throughout.
2 teeth bridges are called cantilever bridges.  In this case the Implant Dentist will place one Dental Implant that will support 2 teeth. The Implant will be placed in one of the two lost tooth sites, but never in the middle.  A 4 teeth Dental Implant Bridge is done by placing 2 implants and a Bridge of 4 teeth.  5 and 6 teeth Bridges are best done with 3 dental implants.  In many cases it is better to do multiple bridges such as 2 x 3 teeth bridges rather than 1 x 6 teeth bridges.
Patients are typically very satisfied with Implant Bridges since they have similar function to natural teeth, great esthetics. Give us a call today at 301-770-2270 for a no cost consultation.  We will assess your situation, determine what you need, how much it will cost and how long it will take to complete your case. The Implant Dentists at Natural Dentist Associates provide complete Dental Implant therapy, from tooth extraction to Porcelain Implant Crown placement.
The Advantages of Ceramic Implants should be explored closely. These days Dental Implants are made of tooth colored Ceramic or Titanium.
We serve primarily Rockville, Bethesda, Silver Spring, Wheaton, Potomac, DC, Gaithersburg, Kensington, Germantown, Burtonsville, Laurel, Columbia and Northern Virginia ( Mclean, Tysons Corner, Great Falls, Arlington ) but people travel from all over the country for our specialty and Holistic Dental Services.